Supreme Court Holds Investiture Ceremony For Associate Justice Ketanji Brown Jackson
WASHINGTON, DC - SEPTEMBER 30: (EDITORIAL USE ONLY) In this handout provided by the Collection of the Supreme Court of the United States, (L-R) U.S. President Joseph R. Biden, Jr., Vice President Kamala Harris, and Justice Ketanji Brown Jackson pose at a courtesy visit in the Justices Conference Room prior to the investiture ceremony of Associate Justice Ketanji Brown Jackson September 30, 2022 in Washington, DC. President Joseph R. Biden, Jr., First Lady Dr. Jill Biden, Vice President Kamala Harris, and Second Gentleman Douglas Emhoff attended as guests of the Court. On June 30, 2022, Justice Jackson took the oaths of office to become the 104th Associate Justice of the Supreme Court of the United States. (Photo by Collection of the Supreme Court of the United States via Getty Images)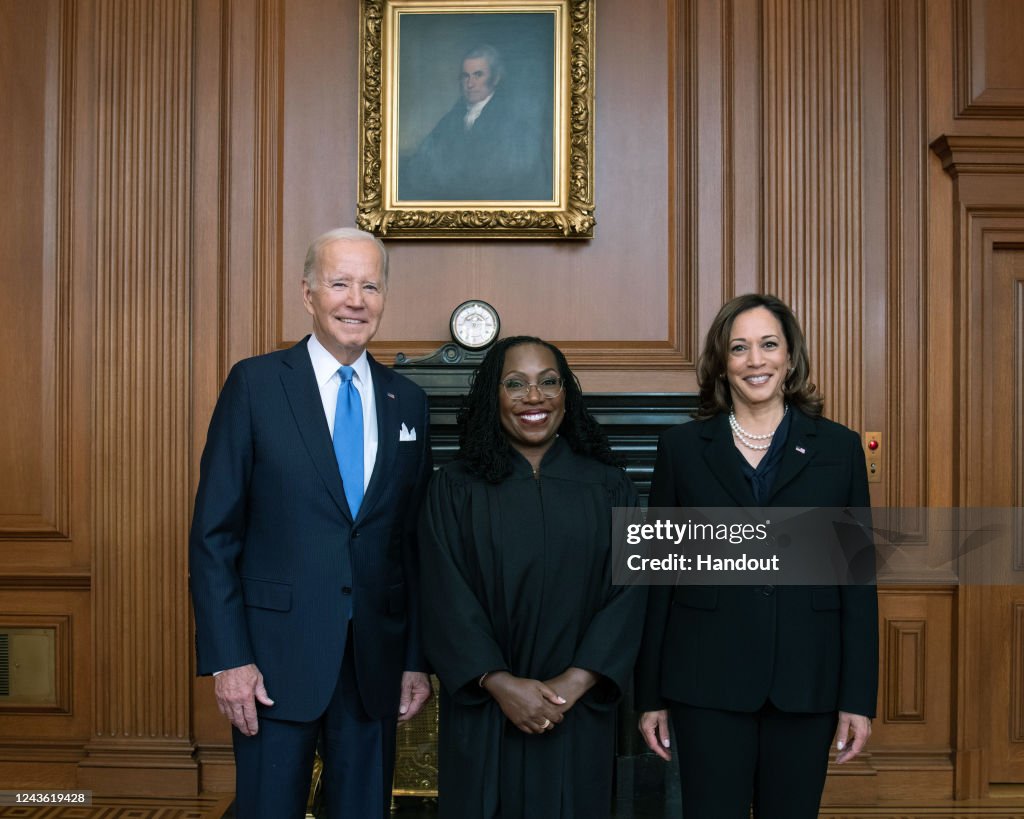 Comment puis-je utiliser cette image ?
INFORMATIONS
Restrictions :
Contactez votre agence locale pour toute utilisation commerciale ou promotionnelle. Droits éditoriaux complets - Royaume-Uni, USA, Irlande, Canada (exclut le Québec). A l'exception de ces pays, les droits éditoriaux pour la presse quotidienne sont limités. Appelez-nous.
(EDITORIAL USE ONLY) Getty Images provides access to this publicly distributed image for editorial purposes and is not the copyright owner. Additional permissions may be required and are the sole responsibility of the end user.
Collection :
Getty Images News
Date de création :
30 septembre 2022
Source :
Getty Images North America
Référence :
Justice Jackson, the President, and the Vice President
Taille max. de fichier :
5686 x 4549 px (48,14 x 38,51 cm) - 300 dpi - 13 MB